Collaborating With Realtors
At Digital Lifetstyles, we collaborate with realtors so you can leverage technology as a unique value proposition.
Our helpful, intelligent technology service offerings support your clients' connected lifestyles and provide a one stop resource for all their technology needs.
Staging Technology Services
Messy and outdated technology shouldn't detract from the sale of a house. Whether it's old TV's, unsightly cords, or tidying up electrical issues, we can help!
Our Staging Technology Services provide you with access to low-cost solutions that can further enhance the staging of your listings.
Move Technology Services
The stress involved in planning and executing a move can be overwhelming. We can mitigate the hassle involved in the technology aspects of your clients' move. Our move team is comprised of a group of dedicated project managers and licensed and experienced technicians. We include a free initial onsite consultation to determine your clients' requirements, followed by a detailed, itemized quote, prior to the commencement of their move. In addition to supply and installation, we provide any necessary service support.
Our Move Technology Service Includes: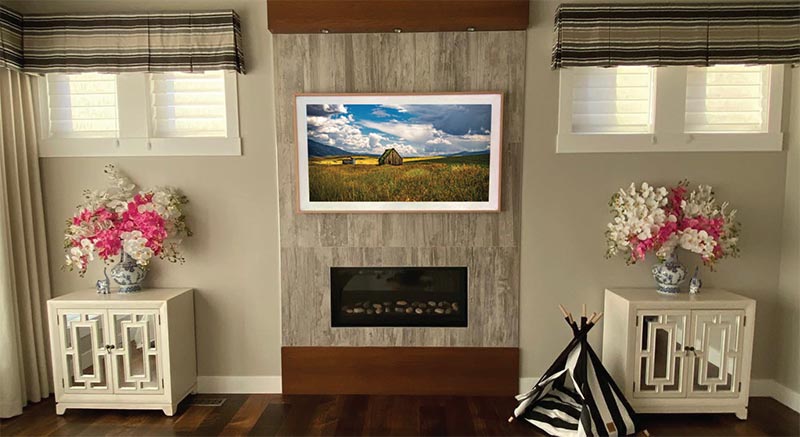 You can also utilize our expert team for your own business technology requirements to boost productivity and enhance marketability.
Legacy System Technology Services
If you have clients that move into a new home with an outdated technology system that is not fully operational or they are uncertain about how to use the system, we can help! Whether it's a security system, home theatre, or full home automation system, we can ensure that the integrated technology in
the newly purchased home functions as intended.
Rural Technology Services
If you have clients interested in purchasing rural properties, don't let the lack of technology infrastructure deter them from a sale. We understand the intricate challenges acreage, farm and ranch property owners encounter when it comes to technology. This is why we have created a dedicated
service offering, specific to rural technology requirements. We can help with networking, security, lighting, and operational efficiencies and automation.
Marketing Technology Services 
Target your messaging with our marketing technology services. Lease or purchase our exterior digital signage to bring attention to your listing unlike any other! We also have solutions for in-home displays that will refine your marketing presentations.
Commercial Technology Services 
Do you need technology support to enhance productivity in your real estate office? Our high performance custom networks will change the way you work, ensuring you always have access to a secure, reliable, and  fast Wi-Fi connection. As well, we can provide solutions that will support work from home initiatives for your real estate agents.
Managing your office has never been easier with automation solutions that will allow you to manage your smart office anytime and anywhere in the world, using a mobile device or voice activated smart hub. With a touch of a button, you can monitor and control your security system, adjust your lights, window treatments, regulate your office climate control, oversee life safety devices, and lock and unlock your doors.
Partnering with Digital Lifestyles means you can seamlessly meet all your clients' technology requirements; we provide system design, supply, and installation of our systems, as well as any necessary service support.
With these innovative resources available, you can promote additional service offerings and further differentiate yourself from the
competition. Collaborating with Digital Lifestyles also means you have access to the only technology company in Western Canada that is certified and qualified to install many market leading brand technology solutions in the industry.
Contact Us for a Free Consultation