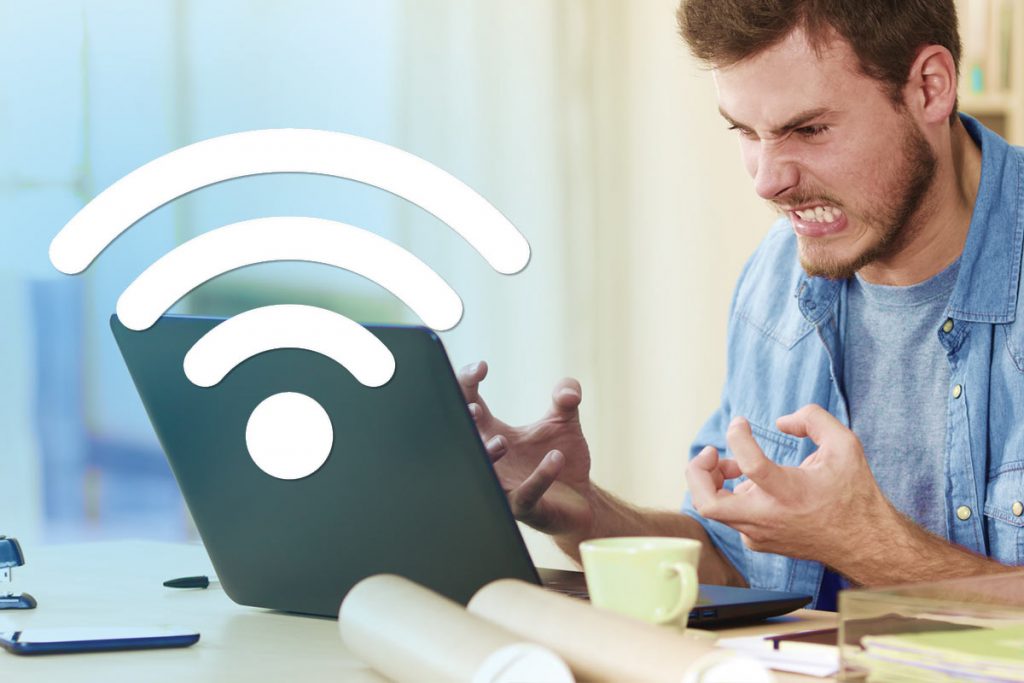 By Mike Dummer, Founder of Digital Lifestyles
For most of us, reliance on the internet as an essential service to conduct our daily routine is now expected. Governments treat it as such, regulating service providers (though their effectiveness is debatable) and ensuring most remote areas, regardless of population, have coverage. Networks are most often referred to as Wi-Fi, which in most people's minds means "wireless", quick and convenient.  However, poor quality Wi-Fi routers or weak signals caused by interference, overlapping Wi-Fi channels or blocked signals from ceilings and walls, frequently results in a frustrating experience and reduced productivity.
Today's networks are expected to deliver gigabit speeds in every area of the home or business, but sadly this is not the case. To understand why, we need to first consider all the tasks executed on a minute by minute basis that are delivered online through an internet connection; once it hits your home or business, your network takes over to deliver all the content and services. This can be a demanding task given the typical combination of devices and services running in a home which can include:
Mobile phones and tablets.
Gaming Systems.
Internet of Thing (IOT) devices such as Smart TV's, music systems, security systems and cameras, locks, intercoms, thermostats, lights, garage doors, and appliances.
Remote controls and apps to run and control the IOT devices.
Life Safety Devices such as flood sensors, smoke detectors and CO detectors.
Ultra HD 4K TV via Netflix, Apple TV, YouTube (as well as dozens of other streaming sites for video).
Music (now in HQ and Lossless formats) delivered by streaming services like Apple Music, Spotify, Pandora, Deezer, Tidal and more.
Texting and communications.
Work and school related content.
Social Media such as Facebook, Instagram, Twitter and Snapchat.
Herein lies the issue; typically, this is all being connected and managed through an entry level, "box store" router or the basic combination modem/router supplied by a service provider. Unfortunately, the capability of these products is limited, so most users never get the experience a high-performance network can provide. These limitations manifest themselves in many ways you both can and cannot see. For example, all of your streaming movie and TV services offer a very high-quality picture and sound option to match your HD TV. What you may not know is when a service like Netflix or YouTube detects an underperforming network, it lowers the quality until the content can play. In some cases, the network will be so compromised that the content won't load at all. Music services work the same way with many offering a better than CD quality product that needs a high performance network. If it detects low performance, it cripples the stream so you won't experience the full capability of your system.
Dropouts and slow spots are also common in most homes and offices. You may not be aware that a significant area of your home or office is likely running at less than 25% capability. This causes slow or stopped downloads, incomplete updates, game freezes and webpages that won't load. Similarly, you will experience intermittent issues with IOT devices, all of which are most likely network related.
Unfortunately, simple modem/router solutions offer low coverage and performance suffers in areas of poor reception. IOT device issues are also common in these circumstances because the products lack the proper management tools required to ensure smooth, reliable and secure operation. Even mesh networks offered by Google, Telus and Shaw Blue Curve, are not the answer. They sacrifice speed and bandwidth for adequate coverage. They aren't intended to provide the maximum speed throughout your home but instead will only allow you to connect in areas where you could not previously connect to your in-home Wi-Fi.
So what is the solution? You need to use hardwired access points that can execute both 2.4G and 5G with a decent quality router, capable of business class security; this will maintain full speed and bandwidth at all times. Although it is common to blame the devices and products, qualified and experienced network engineers will tell you, it's overwhelmingly your network hardware and configuration that is the true culprit. As the old adage goes, you get what you pay for; there's only a couple of correct ways to deploy a secure, fast and reliable network and for this you need the expertise of a reliable smart technology and integrated systems provider.